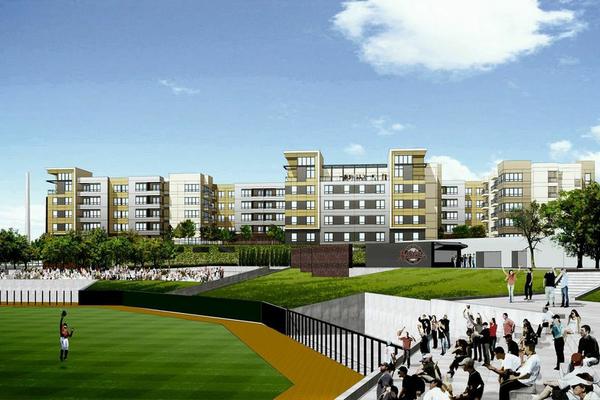 Venue at the Ballpark, a multimillion dollar Inland American Communitie s venture located at Third Ave. S. and 16 th Street near Railroad Park and Regions Field is under construction.
Birmingham's Golden Construction announced the groundbreaking this week.
Slated to be completed by January 2016, the project includes 236 apartments over five stories of multifamily units and two levels of parking for residents.
Along with an elevated pool, the project's second floor garden courtyards will overlook the centerfield portion of Regions Field.
"Inland American Communities is proud to have developed a true partnership with the City of Birmingham and feels that The Venue at the Ballpark will contributre to the continuing growth and development of the downtown area," said David Pierce, senior vice president of development with Inland American Communities.
Golden Construction worked on Inland's popular Cityville' Block 121, now Station 121, which has seen great leasing success since it opened in 2010.
"It is an honor to be involved in another project with Inland American Communities and combine Inland's progressive vision of urban living with Golden Construction's innovative processes to provide the next step in the development and revitalization of the downtown Birmingham area," said Brad Stevens, project manager for Golden Construction in a statement.
The project is one of three multifamily deals announced near Railroad Park and Regions Field in the last 12 months.
LIV Development's LIV Parkside is under construction, while Watts Realty's L&N Parkside was recently cancelled.